Welcome to Tatum Robotics
Tatum Robotics aims to offer people with deafblindness, a historically underserved community, their first independent communication tool. Tatum is an anthropomorphic robotic system to sign tactile sign languages—the primary and often only communication method of millions of DeafBlind individuals worldwide. Disrupting the field centered on braille, this will be the first independent communication system to incorporate signing culture.

August 2021 Prototype of Tatum hand+wrist fingerspelling F-L-Y
Background
The idea for Tatum began years ago after meeting a DeafBlind (DB) woman, Elaine, at Northeastern University. Deafblindness is characterized by having a range of concurrent vision and hearing loss. After speaking with Elaine via an interpreter, her only way of communicating, we began to ask Elaine about how she was able to communicate. Like most DB individuals, Elaine did not know how to use braille. Currently, innovations in DB communication methods have relied solely on braille tablets, leaving out most of the DB population who have acquired-deafblindness, limited access to education, or have multiple disabilities. As a result, Elaine communicates only through human interpreters, who cost upwards of $75/hour, require 3+ months to access, and require a team of two interpreters who switch off every 15 minutes.
Over the past two years, we began developing initial prototypes and conducted preliminary validations with DB users. During this time, the COVID pandemic forced social distancing, causing increased isolation and lack of access to important news updates due to intensified shortage of crucial interpreting services. Due to the overwhelming encouragement from DB individuals, advocates, and paraprofessionals, in 2021, Tatum Robotics was founded to develop an assistive technology to aid the DB community.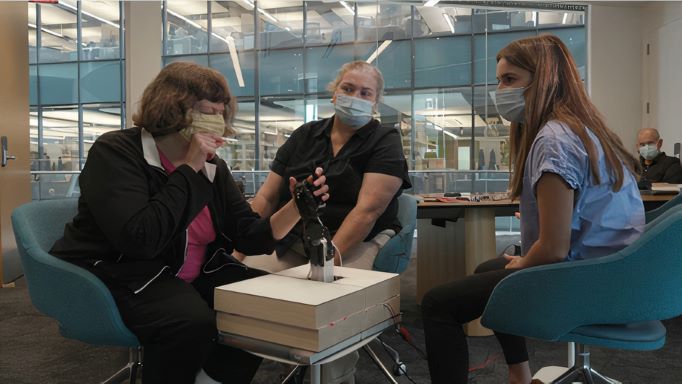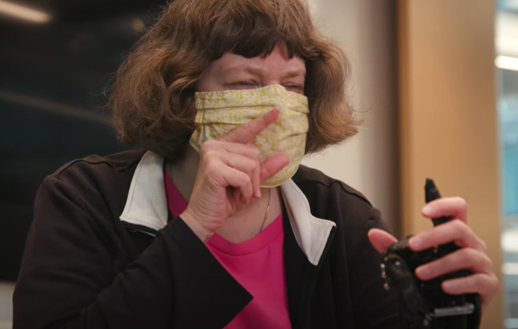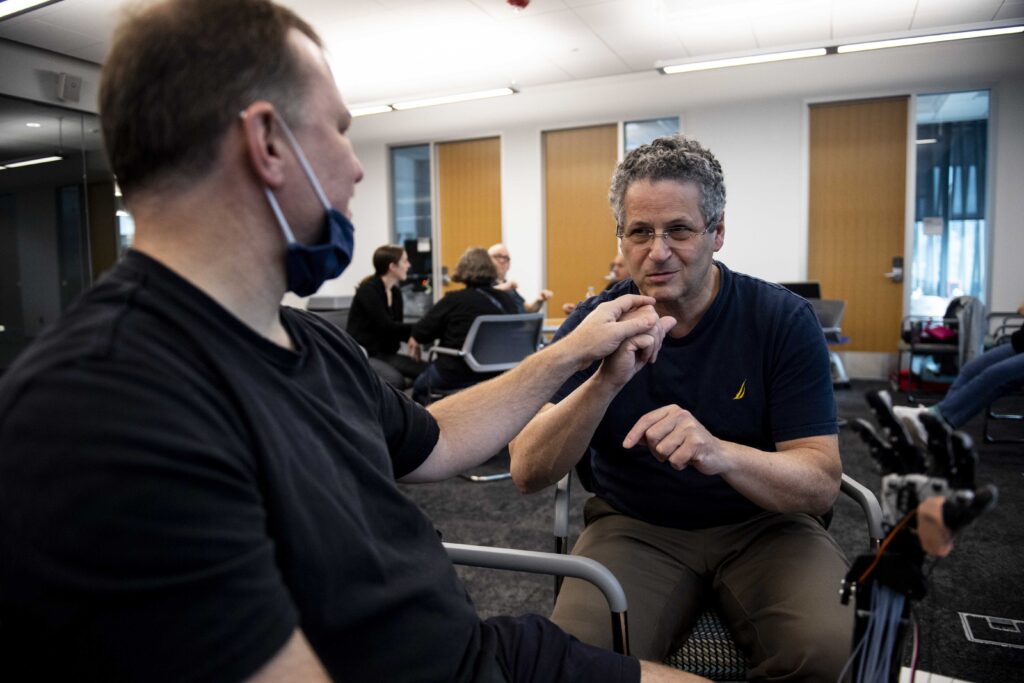 Our Mission
At Tatum Robotics, we strive to help create a more accessible world for people with disabilities through innovative assistive technologies. We are dedicated to maintaining an inclusive team and community-driven collaborations to ensure that discoveries are ethical, and promote the advancement of all.
Jaimi Lard
August 2021
Jaimi is a local Boston resident and long term consultant for Tatum Robotics. Jaimi was born DeafBlind in NY, and later taught at Perkins School for the Blind in their DeafBlind school. Jaimi has been instrumental in our development of our robotic platform, giving us helpful feedback for design improvements. 
Meet Tatum, a Tactile Sign Language Robot
February 2022
In most instances, language is something you read or hear. But for people who are both deaf and blind, language is something you can touch. To make modern communication such as email or text accessible to more people, Samantha Johnson, a Northeastern alum, created a tactile sign language robot. Meet Johnson and TATUM in the newest Narrative film.